Welcome to our great community…
LATEST NEWS
October 16, 2017
The Bishop Hellmuth Neighborhood Association has submitted a request for funding as part of the City of London Neighborhood Decision Making Program. The request is for funding to provide for Bishop Hellmuth Street banners, and a picnic area in Doidge Park.
Anyone in central London is eligible to vote on proposals to be funded in the central London area. The proposals receiving the most votes will receive funding. It is therefore essential, in order for our Neighborhood to receive funding, that you vote on Saturday, November 18.
You may either vote at polling stations located in city of London libraries on that day, or you may vote online. Please note that we will have computer terminals located at the harvest brunch, in St. John the evangelist, and we encourage you to attend the Brunch and vote on that day!
---
Safety Audit of our neighbourhood
The BHNA is working with the City and Police to coordinate a Safety Audit of our neighbourhood. The Audit will include consideration of the issues itemized in the attached document. We expect the audit will take about 30 minutes, and will occur in late September or October. We welcome our block captains, and any other interested residents, to participate.
---
EVENTS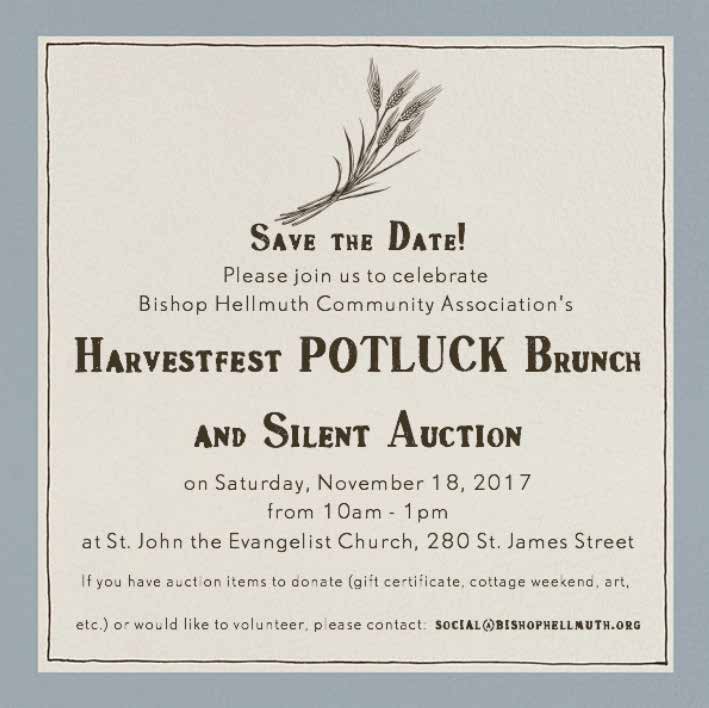 ---
Bishop Hellmuth Neighbourhood Association Inc works to advance the interests of our heritage neighbourhood. Our activities include maintaining our heritage characteristics, interacting with city planners and property developers, as well as planning social and community events.

---
Advantages of living in a Heritage District
The fact that the District is regulated by Heritage Permits allows for a degree of certainty to the quality of changes made in neighbouring properties, and thus serves to protect each owner's investment in his property.
Designation often increases property values. Current research throughout Ontario indicates that properties in Heritage Conservation Districts retain their value well, and tend to be more stable than comparable areas that are not designated. In the years working on this project, there were signs of an increase in the values of the houses, a decrease in the number of properties owned by non-resident owners. Several former duplexes have been converted back to single family residences.
Heritage designation facilitates the presence of downtown neighbourhoods. An HCD allows its residents the advantages of a secure environment and ready access to downtown amenities.
Living in an HCD encourages a strong sense of community and neighbourhood identity.