News for the community
Notice of Application for Approval of Site Plan
754/764 Waterloo and 354 Oxford Street East
November 28, 2013
We have received the Notice of Application for the site plan application for the pharmacy at Oxford and Waterloo.
The Notice is available as a PDF file here:

There are currently holding provisions on the application.
The site plan includes drawings of the proposed building from all 4 sides. It has not changed very much from the last version we circulated.
There will be a public meeting at a future meeting of the Planning Committee.
---
754/764 Waterloo and 354 Oxford Street East
September 21, 2013
Farhi Holdings has submitted new drawings for the proposed pharmacy building.
The planners have indicated construction of a matching knee wall to compliment the one at the Shell station. Other features include yellow brick exterior and a historic looking cornice. Other suggestions were not included. The windows along Waterloo will be fake windows, either glass (presumably reflective) or with historic photos.
In the attached PDF you can see they have proposed to have zoomed in photos of architectural details.
London Community News;
July 23, 2013
By Sean Meyer
Pharmacy seen as gateway project for Bishop Hellmuth Conservation District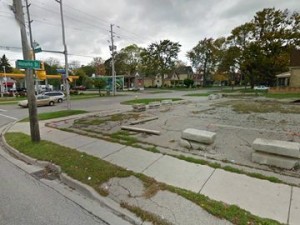 Development of a vacant lot at the gateway to the Bishop Hellmuth Conservation District will move ahead, but not without talks between area residents and the proponent of the project.
During the Planning and Environment Committee meeting on Tuesday (July 23), a public participation meeting was held to discuss a proposal from developer Shmuel Farhi that would see a Rexall pharmacy constructed on lands at 754/764 Waterloo and 354 Oxford St. E. The new pharmacy would be built on lands at the northeast corner of property, site of a former Esso gas station.
More from the London Community News article here:
A pdf file of the recommendation sent to city planning committee from planning department can be viewed or downloaded here:
May 28, 2013
Farhi Holdings has submitted new drawings for the proposed pharmacy building to be constructed at Oxford and Waterloo, as well as landscaping plans.  These have been received by the City Planning office which means there will likely be a public hearing on the property rezoning in July.  It will be important to have a good contingent show up to voice our concerns that the building should comply with the Heritage District Guidelines that the City approved.
The proposed building would be in yellow brick with rear parking and trees along the Oxford and Waterloo sidewalks.
Diagrams below can be downloaded in pdf format:
North and South Elevation (Oxford Street)
East and West Elevation (Waterloo Street)
Landscape Plan
Sample for brick only: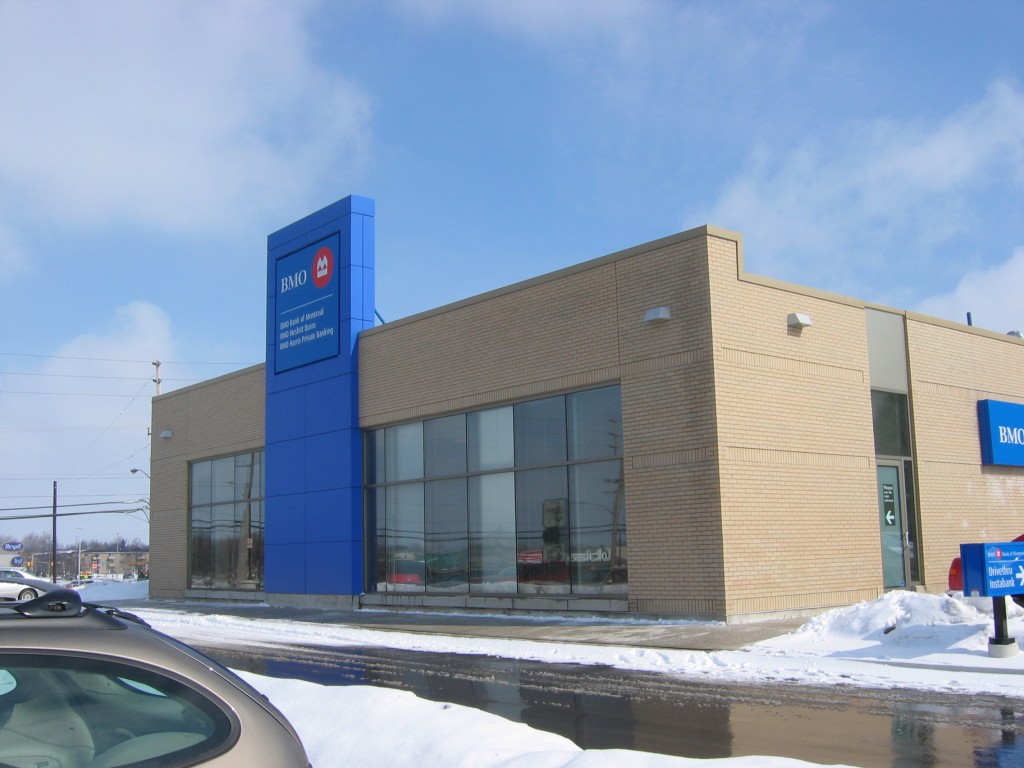 ---
November 12, 2012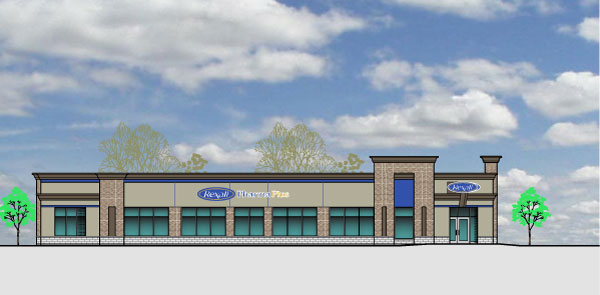 Please find links to a notice of application, a proposed site plan and an elevation drawing that has been submitted to the City of London for the development of a new PharmaPlus shop directly across (North East corner) from their existing location.
OZ-8121_Notice of Application_ 754 764 Waterloo St and 354 Oxford St E
Your opinion on this application is important. Please call, email or send your comments by December 10th to the City of London Planning Division.
Attention:
Nicole Musicco
Planner II  – Community Planning and Design
City of London  – 206 Dundas Street
519-661-2500  Ext. 5887
nmusicco@london.ca
---
Update from Shell on Remediation at Waterloo and Oxford
August 24, 2012
The Community Association Board has received correspondence from Verity Conrad from Shell regarding the ongoing remediation activities at our local shell station.
In brief, the conditions continue to improve and levels of hydrocarbons that they are sampling are reducing.  Their operation will continue and they will keep us updated.
Shell's environmental consultants confirm that the system is "operating within design parameters" and that it is "unlikely that the soil and groundwater impacts identified within the study area pose an unacceptable risk for vapour intrusion into buildings at 775 and 777 Waterloo Street."
775 and 777 Waterloo are currently owned by Shell and are for sale.
We will keep the community updated as we hear more.
---
Murphy and Murphy Architects
Open house photos to mark 50 years of Murphy and Murphy Architects at 775 Waterloo Street – now bought by Shell and being closed due to gas leak.
---
Meeting with the Ministry of the Environment
The Bishop Hellmuth Community Association met with Jason Lehouillier–Senior Environmental Officer, Ministry of the Environment on Jan. 11, 2012
To see the minutes click here.
---
Shell Buys Contaminated Properties
---
Quoted from http://www.altlondon.org/
Another potential heritage battle looms on London's horizon, this time in old north in the Bishop Hellmuth Heritage Conservation District
AltLondon has learned that 775 and 777 Waterloo Street (just north of Oxford Street, west side) in London are being sold or have recently been sold to Shell Canada, since the soil and aquifer below the two properties is contaminated with petroleum products which leached from the Shell station's corroded underground gas tanks (removed and replaced in 2005) at 316 Oxford Street East.
775 and 777 Waterloo Street (Photo taken Friday, Jan 6, 2012)

777 and 775 Waterloo Street (Before Friday, Januray 6, 2012)
Here's a related government document about the environmental contamination and proposed remediation.
http://www.ebr.gov.on.ca/ERS-WEB-External/displaynoticecontent.do?noticeId=MTE1MDAz&statusId=MTcyMzYz
According to Jason Lehouillier at the Ministry of the Environment, Southwest Regional Office in London, "Shell became aware of the problem in 2005 when they renovated the gas station and installed new pumps and [underground] gas tanks. Several bore holes in the two adjoining properties were dug down to the aquifer after that" to test the level of contamination.
He also says approval is pending for Shell's application but that it's not common to demolish buildings to remediate contaminated soil and water.
Noah Eade, a former Londoner who works for JB Water and Vacuum Services in Kelowna, British Columbia, says the Ministry of Environment document reveals that Shell Canada is "applying to start flushing the water in the ground via injection points in an effort to remediate the contaminated water [in the soil]," pursuant to section 34 of the Ontario Water Resources Act.
Asked whether this will require the demolition of the two buildings, he says "it could as one would not be able to guarantee the integrity of the structures … it's also [potentially] dangerous to have tenants in the buildings while performing underground remediation on site."
775 Waterloo Street is the Murphy & Murphy Architects' building which was built in 1962 (designed by Ron Murphy) and has some architectural significance as a 1960s commercial structure with Ludwig Mies Van der Rohe influences (it was featured in Doors Open London one year).
777 Waterloo Street is a residential property designated under Part IV of the Ontario Heritage Act and Part V of the Act ("Bishop Hellmuth Heritage Conservation District") ~ a building where the windows and doors were boarded up on Jan. 5 by a Toronto contractor on behalf of Shell Canada, with written guidance from building inspector Doug Carlson of the City of London's planning and building control department.
The three commercial tenants in 775 Waterloo Street are being forced to move by the end of February 2012.
Both buildings are in excellent condition but appear to be under threat of possible demolition since Shell Canada is not in the business of owning or maintaining heritage properties.
David Murphy of Murphy & Murphy Architects is the previous owner of both Waterloo Street properties.
---
Demolition by neglect
Excerpt from The McLeod Report:
The process is called demolition by neglect. It's already robbed London of many heritage buildings and recently it claimed another, this one at 764 Waterloo St. on the bottom edge of Old North.

You can blame petroleum giant Imperial Oil for this one. The company acquired the two-storey yellow brick residence about 16 years ago because it was right next door to their existing Esso service station.

However, the service station was closed almost a decade ago and land levelled. Windows boarded, heat and power off, 764 Waterloo slowly began wasting away.

Recently Shmuel Farhi, London's largest property owner, bought the old home along with the vacant service station lot on the corner. He wants to knock the house down (Addendum: has knocked the house down) and perhaps – although there are no definite plans yet – build an apartment or an office on the two properties on the corner of Waterloo and Oxford."
See the full story on The McLeod Report.
Photos of the property before and during demolition.